Roofing Contractor in Raleigh, NC, and Surrounding Areas
Roofing Contractor in Raleigh, NC | Carolina Exteriors
Many of us don't pay much attention to our roofs until an issue arises. However, your roof is one of the most important parts of your home's exterior and should not be ignored, especially if it's over 20 years old. When you need roofing services in the Triangle, trust the Carolina Exteriors team for your replacement project. 
We are proud to be your local experts in roofing in Wake County and we're here to help you navigate the replacement process with ease. To learn more about your options for roofing in the Triangle or to speak to one of our roofing experts, Call 919-335-7898 or Contact us today for a free quote!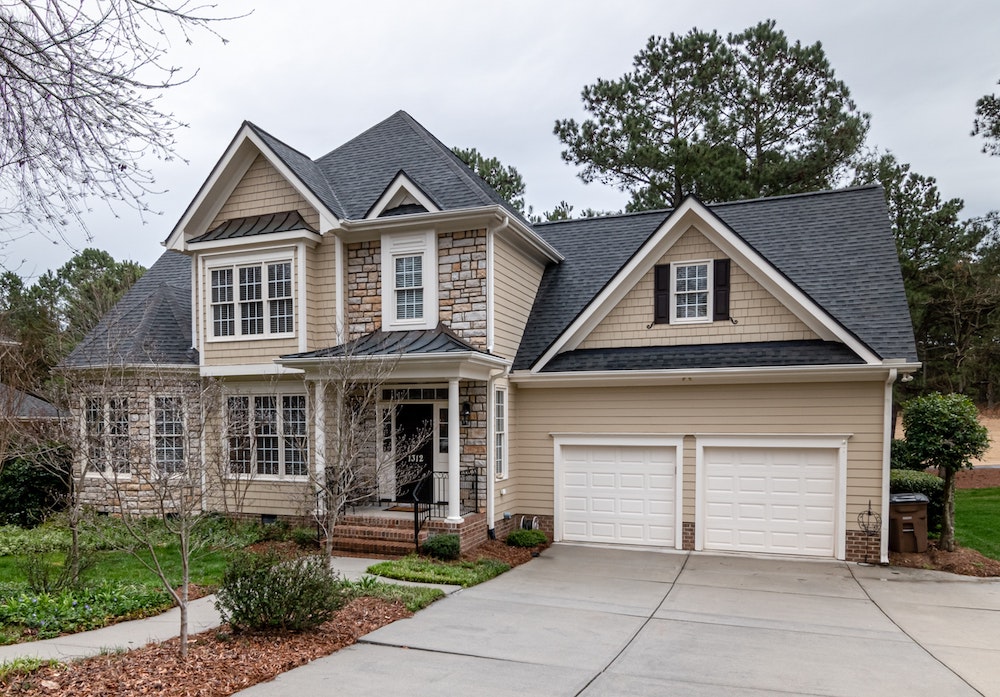 Roofing in Raleigh, NC
Replacing your roof is a big undertaking and a process that homeowners often find overwhelming. Here at Carolina Exteriors, we're here to break that stereotype by providing you with a simplified, low-stress remodeling process. When you hire our team, here's what you can expect:
An initial Project Discovery Call with one of our design consultants

A meeting with a design consultant to review the scope of the project, budget, materials, timeline, etc. 

A prepared Design Plan that includes recommendations for you to review

A Design Plan review to lay out the entire project

Access to a Client Portal once your contract is signed

A smooth construction process with regular communication with our team
At the end of your project, you'll have a beautiful, efficient new roof that will last for years to come. 
Signs It's Time to Replace Your Roof
Sometimes, it can be hard to tell whether you really need a new roof or if you simply need to repair it. We're here to help you make the right decision for your home before you need emergency roof services. If you notice any of the following signs, you'll want to start planning your roof replacement sooner rather than later. 
Your roof is droopy or sagging

You see mold, moss, fungi, or algae growing on your roof

Your shingles are curling, buckled, or missing

You see signs of water damage in your attic, on your walls, or on your ceilings

Your roof is actively leaking

You see granules from your shingles in the gutters or on the ground around your house
At the first sign of any of these issues, contact our team to set up a roof inspection. 
Dangers of Neglecting Your Roof
If you ignore the issues above for too long, you're putting your entire home at risk. Delaying your roof replacement ultimately leads to more serious issues and more headaches for you as a homeowner. Still not convinced? Here's a closer look at some of the dangers of neglecting your roof. 
More expensive repair costs: Ignoring your roof can lead to leaks that will damage other parts of your home, causing more expensive repairs. 
Structural issues: When a roof leak makes its way through your exterior, it can cause damage to the foundation such as your ceiling joists or attic beams. If left alone, these areas can start to degrade, compromising your home's structural integrity. 
Decreased home value: If your roof is damaged and you're planning to list your home for sell, it will likely be much harder for you to find a buyer willing to pay your full asking price. 
Roofing Materials We Offer
Here at Carolina Exteriors, we proudly offer asphalt shingles from two of the leading manufacturers on the market: CertainTeed and Owens Corning. The shingles from both of these brands are high-quality and durable, designed to withstand our unpredictable North Carolina weather with very little maintenance. 
The shingles are also available in a variety of colors so you can choose an option that complements the rest of your exterior. 
Why Choose Carolina Exteriors?
Our primary goal is to always make sure our customers are completely satisfied with the work we do. Don't choose the wrong roofing company. When you hire our team, we'll take the time to listen to you and communicate with you every step of the way. 
We also provide comprehensive financing options to make it easier for your project to fit within your budget. To learn more about how we can help you, call us at 919-726-3830 or contact us online. 
Schedule Your Roof Replacement Today
Don't wait any longer to give your roof the TLC it deserves. Our team of expert roofers is ready and waiting to inspect your roof, talk to you about shingle replacement options, and replace your roof quickly and efficiently. 
Roofing FAQs
How long will it take to replace my roof?
The timeline for your project will vary based on a number of different factors such as the state of your current roof, the time of year, and more. When you meet with our team, we can give you a more accurate estimate for the length of your project. 
How much will it cost to replace my roof?
That answer also varies based on the replacement materials you choose and the scope of your project. If you're looking for ways to keep costs low, we're here to help! Check out our current special offers to see how much you can save.
60% Referral & Repeat Customer Rate Professionally Credentialed Construction Project Managers [NARI] Manufacturer Trained Installation Teams 10 Year Written Workmanship Warranty Flexible Project Financing Options 5-Star Reputation 60% Referral & Repeat Customer Rate Professionally Credentialed Construction Project Managers [NARI] Manufacturer Trained Installation Teams 10 Year Written Workmanship Warranty Flexible Project Financing Options 5-Star Reputation 60% Referral & Repeat Customer Rate Professionally Credentialed Construction Project Managers [NARI] Manufacturer Trained Installation Teams 10 Year Written Workmanship Warranty Flexible Project Financing Options 5-Star Reputation
© 2021, Carolina Exterior Plus | Sitemap