Siding Repair Services in and Around the Triangle
When was the last time you really took a good look at your siding? Unless there are very obvious signs of damage, it's easy to miss small signs of wear and tear on your home's exterior. However, small areas of damage can become more serious over time if they're not addressed in a timely manner. Here at Carolina Exteriors, we specialize in siding repair and replacement services, helping to restore your home's exterior to its former glory. 
Are you interested in learning more about what we can do for your siding? Or, maybe you'd like to speak directly to one of our expert remodelers? We invite you to call us at 919-886-7587 or contact us online for more information. 
Siding Repair Services
If you're concerned about the state of your siding, the Carolina Exteriors team is here for you. We'd be happy to come out to inspect the state of your siding, giving you a full evaluation of what we see and whether the damage can be repaired or replaced. 
We can also identify issues beyond just the surface level, making note of any vulnerable areas that may be susceptible to more serious types of damage. When you hire our team, you can expect clear and honest communication every step of the way, regardless of the scope of your project. 
Common Causes of Siding Damage
Even the most durable siding will start to show signs of wear and tear after decades of protecting your home against the elements. Here's a closer look at the most common causes of siding damage that we see here in North Carolina:
Installation errors: If your siding wasn't installed correctly in the first place, then it's more likely to show signs of damage after just a few years. 
Moisture issues: When water makes its way beneath your siding, it can cause the material to bubble, buckle, or warp. 
Pests: Outdoor pests like carpenter bees, termites, and woodpeckers can cause damage to your siding. 
Extreme weather: Weather like rain, wind, and hail can take a toll on your siding, leading to small areas of damage over time. 
Poor maintenance: Failing to properly maintain your siding can lead to issues over the years. 
Can I DIY My Siding Repair Project?
If your siding only has small amounts of damage, you might be tempted to make the repairs yourself. After all, how hard could it be? Well, in most cases, unless you have prior experience working with siding, even small damage can be very difficult to repair. 
When you attempt to remedy the issues yourself, you run the risk of causing even more serious damage. As a result, you'll likely spend more time and money fixing your work than you would have if you hired a professional siding repair company from the beginning. We recommend saving the DIY efforts for simpler projects and working with a professional when it comes to your siding.
When Repairs Are Not Enough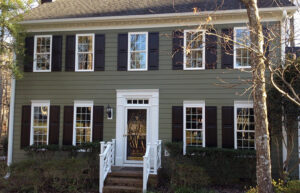 In some cases, your siding may be beyond repair. In that case, you're better off scheduling a full siding replacement project instead. If you notice any of the following signs, it might be time to think about replacing your siding altogether: 
Pieces of your siding are cracked or loose

There is mold growing on your siding

You notice dents on multiple siding boards

You can see water stains on your siding or on your inside walls

You have to repaint your siding every few years

Your

energy bills are higher

than normal
Why Choose Carolina Exteriors?
Nothing means more to us than earning the trust of our customers. That's why we're so proud of the fact that we have an incredible 60% referral and repeat customer rate. It's our commitment to excellence that keeps customers spreading the word about us and if you hire us for your siding repairs, you can expect nothing but the best as well. 
Schedule Your Siding Repairs
If you let your siding damage go too long, it's only a matter of time before things become more serious. Take action now by hiring the Carolina Exteriors team to repair your siding before it gets worse. To get started, call us at 919-886-7587 or contact us online.
Siding Repair FAQs
How much will it cost to repair my siding?
Depending on the extent of the damage, the average cost of siding repairs ranges between $349 and $1,397. We'll be able to give you a more accurate estimate when we come to inspect your exterior. 
Is there a certain time of year I should plan my siding repair project?
Not really. Aside from days of extreme weather, our team can work on your siding repairs at any time of the year, based on what works best for your schedule.
60% Referral & Repeat Customer Rate Professionally Credentialed Construction Project Managers [NARI] Manufacturer Trained Installation Teams 10 Year Written Workmanship Warranty Flexible Project Financing Options 5-Star Reputation 60% Referral & Repeat Customer Rate Professionally Credentialed Construction Project Managers [NARI] Manufacturer Trained Installation Teams 10 Year Written Workmanship Warranty Flexible Project Financing Options 5-Star Reputation 60% Referral & Repeat Customer Rate Professionally Credentialed Construction Project Managers [NARI] Manufacturer Trained Installation Teams 10 Year Written Workmanship Warranty Flexible Project Financing Options 5-Star Reputation
© 2023, Carolina Exterior Plus | Sitemap