Do You Need to Replace Your Siding? Use This Homeowner's Checklist to Decide
Have you noticed that your home's curb appeal is a bit lacking lately? It could be that the state of your siding is starting to take a toll on the overall look of your home's exterior. But, how do you know if a good washing will do the trick or if it's time to completely replace your siding?
We're here to make it easier for you. Take this homeowners checklist with you while you walk around the inside and outside of your home. If you check off any of the signs we've listed below, then you'll know it's time to schedule a siding replacement project. 
Homeowner's Checklist: When to Replace Your Siding
Your siding is warping, buckling, or bulging.

This could be a sign of water seeping beneath your siding, causing damage to your home.

You see signs of rotting, mold, or mildew.

This can lead to significant damage if not addressed.

Your siding is peeling shortly after being painted.

You shouldn't have to repaint your siding more than every 8 to 10 years. If you're painting more often, it's time for an upgrade.

Your siding is beginning to fade.

Severe fading is a sign that your siding is no longer providing the same level of insulation and protection that it used to offer. 

You notice cracks or holes in your siding.

This can compromise the structural integrity of your home. 

You see signs of insect damage.

Small pests can cause big issues like structural damage if left alone. 

You notice paint peeling inside your home.

This is a sign that moisture is coming into your home through your siding. 

Your electricity bills are higher.

When your siding is no longer providing proper insulation, your energy bills may start to soar.

You notice the seams in your siding boards are pulling apart.

This seam separation occurs when your home's foundation settles, but it can cause the panels to pull away from the house over time.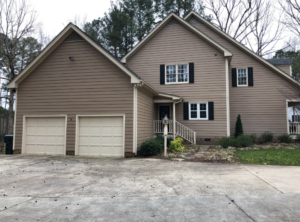 Carolina Exteriors Plus Is Here for Your Siding Needs
How many items did you check off on the checklist above? Even if you only marked off one item, it's a good sign that it's time to replace your siding. Here at Carolina Exteriors Plus, we're proud to offer James Hardie Siding to our customers. 
This high-quality, low-maintenance fiber cement siding is one of the most durable options on the market, designed to protect your home from the elements. It's also available in a variety of different style, color, and design options, so you can choose the perfect siding to match your desired aesthetic. 
If you're ready to take the next step toward replacing your home's siding, we'd love to talk more with you about your project. Contact our team today to schedule a free, no-pressure personal design consultation.
60% Referral & Repeat Customer Rate Professionally Credentialed Construction Project Managers [NARI] Manufacturer Trained Installation Teams 10 Year Written Workmanship Warranty Flexible Project Financing Options 5-Star Reputation 60% Referral & Repeat Customer Rate Professionally Credentialed Construction Project Managers [NARI] Manufacturer Trained Installation Teams 10 Year Written Workmanship Warranty Flexible Project Financing Options 5-Star Reputation 60% Referral & Repeat Customer Rate Professionally Credentialed Construction Project Managers [NARI] Manufacturer Trained Installation Teams 10 Year Written Workmanship Warranty Flexible Project Financing Options 5-Star Reputation
© 2021, Carolina Exterior Plus | Sitemap