GuildQuality's 2021 Guildmaster Award Honors Carolina Exteriors
Carolina Exteriors Recognized among North America's Best
Customer Service Leaders within the Residential Construction Industry
GuildQuality's 2021 Guildmaster Award Honors Carolina Exteriors
Apex, NC [April 2021]-Carolina Exteriors, Specialty Replacement Contractor in Apex, NC, has been awarded a 2021 Guildmaster Award for exceptional customer service. GuildQuality, an independent customer satisfaction surveying company, has powered the Guildmaster Award since 2005 to celebrate service excellence in the building, remodeling, contracting, and home services professions.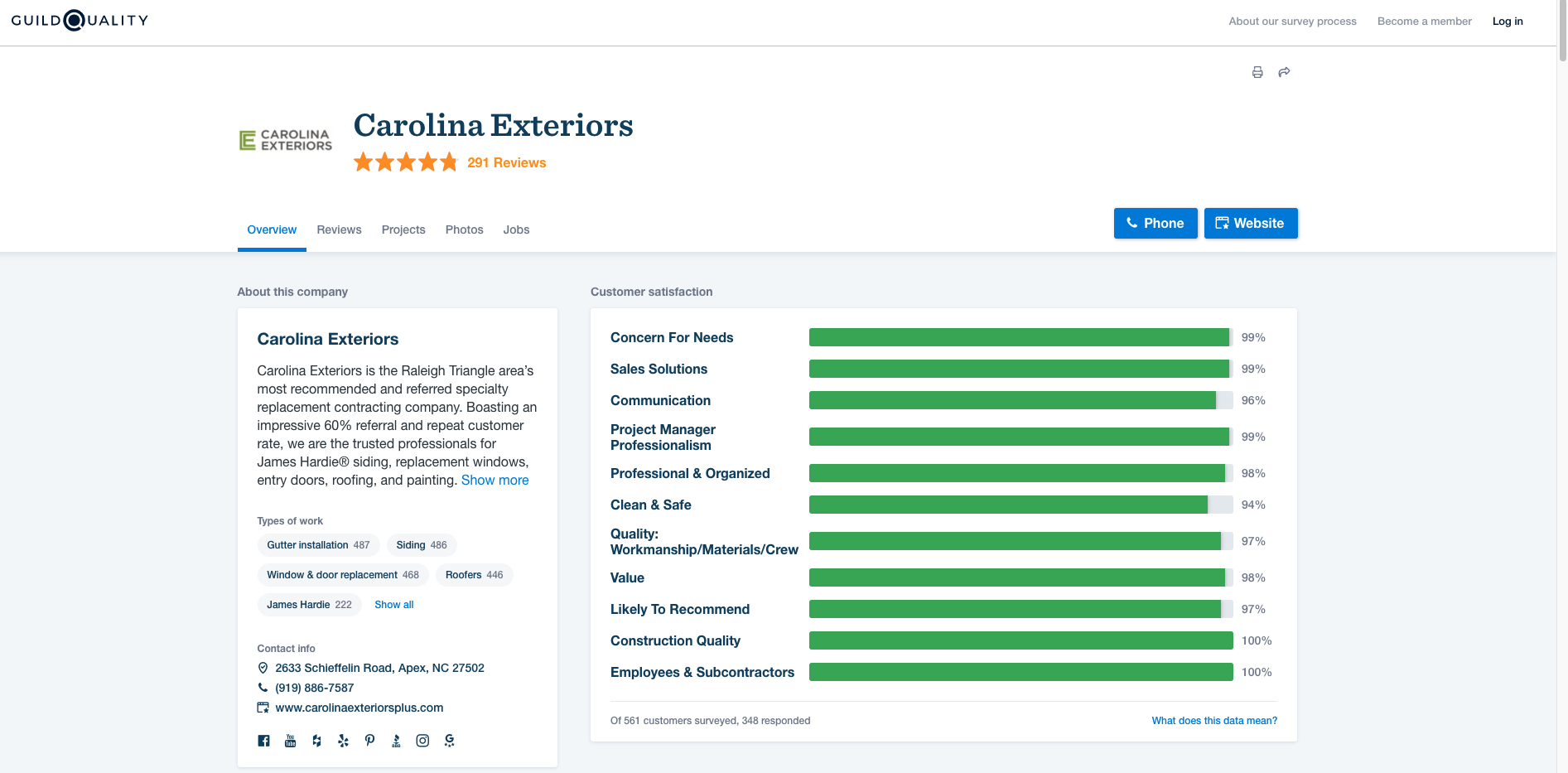 Carolina Exteriors was selected as one of the over 300 North American builders, remodelers, developers, and contractors recognized by GuildQuality for their superior delivery of customer care.
Over the past few months, GuildQuality reviewed numerous survey responses submitted by customers of Guildmaster candidates. In granting awards, GuildQuality considers two primary metrics for each candidate: the percentage of customers who would recommend and the percentage of customers who responded. Carolina Exteriors has achieved a recommendation rate of 97% from their customers, who have been surveyed through GuildQuality.
"Receiving the Guildmaster Award is especially rewarding as it proves our entire team is focused and delivering on our mission of Building Exceptional Customer Experiences." -Clifton Muckenfuss, Co-Founder and Owner
###
About Carolina Exteriors
Carolina Exteriors is a James Hardie® Elite Preferred Contractor, CertainTeed Select ShingleMaster™ Contractor, Owens Corning Preferred Contractor, Pella Preferred Contractor, Angie's List Super Service Multi-Year Award winner (multiple categories), member of the National Association of the Remodeling Industry (NARI), GuildQuality Guildmaster Award Winner for Service Excellence and an inductee into Remodeling Big50 for 2015 (recognizing the Top 50 contractors in the USA).
About GuildQuality
GuildQuality helps builders, remodelers, and contractors manage their most valuable asset – their reputation. Our members rely on our service to gather customer feedback, measure satisfaction and continuously improve their business. Supported by comprehensive reporting and marketing tools, GuildQuality helps its members stand out in a competitive market. For more information, visit www.guildquality.com.
60% Referral & Repeat Customer Rate Professionally Credentialed Construction Project Managers [NARI] Manufacturer Trained Installation Teams 10 Year Written Workmanship Warranty Flexible Project Financing Options 5-Star Reputation 60% Referral & Repeat Customer Rate Professionally Credentialed Construction Project Managers [NARI] Manufacturer Trained Installation Teams 10 Year Written Workmanship Warranty Flexible Project Financing Options 5-Star Reputation 60% Referral & Repeat Customer Rate Professionally Credentialed Construction Project Managers [NARI] Manufacturer Trained Installation Teams 10 Year Written Workmanship Warranty Flexible Project Financing Options 5-Star Reputation
© 2023, Carolina Exterior Plus | Sitemap